March 20, 2023
So the PGA Tour in its unrelenting effort to debase itself and be exactly what it has mocked and decried the past year by imitating LIV Golf's small field, no-cut tournament structure has now seized on another shiny thing which has already proven to be as dull and uninspired as its walking interviews with the players as they play their shots.  Seems the Tour strong-armed Justin Thomas into using a BagCam at the Valspar Championship last week so TV viewers could suffer another intrusive device that yields nothing of interest, but does alienate the very fans it should be trying to keep.
The PGA Tour just can't seem to figure out what it wants to be, and so keeps running bad ideas up the flagpole to see which ADHD mouth-breathers will salute.  Instead of breaking real ground by…you know…showing actual golf shots, NBC decided to get us "up close" by attaching a camera to J.T.'s bag.  The results were fascinating!  You can imagine the slack jaws across the country as golf fans were treated to this must-see television.  Fans got the real low-down and nitty gritty on exactly what a Justin Thomas headcover looks like.  Glorious and resplendent with the Titleist TSR logo and everything, these headcovers were truly a thing of majesty, allowing us to really get the scoop on life inside the ropes.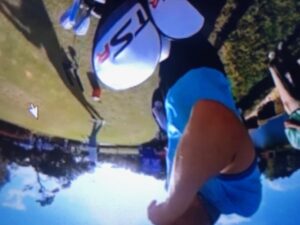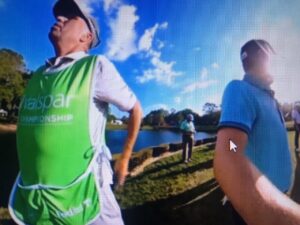 Presumably someone performed a test run on this idea before foisting it on the public, but whoever it was surely reads in Braille.  On first inspection it was an utter failure delivering 15 seconds of the aforementioned headcovers and a panoramic view of Thomas' caddie Bones Mackay stretching it out, but then NBC kept going to the well.  Moments later we got a tight shot of J.T. looking at his yardage book (because we simply don't see enough of golfers poring over their yardage books).  Time and time again they went back to the BagCam, and time and time again it was disastrous—the viewer saw nothing of interest but for one moment.  The tension was palpable when we got a ground-level look at Bones picking the bag off the ground and walking down the fairway with it.  You can imagine my disappointment when Cara Banks failed to interview the headcovers.  "Alright, Mr. DeMille, I'm ready for my close-up."
While LIV flails about with its "Golf, But Louder" shibboleth that has brought nothing but paltry ratings on its 3rd-tier network, the PGA Tour keeps seeking the low ground with a slogan of its own.  "Golf, But Slower."
Instead of trying to lure viewers with parlor tricks and insipid mid-round interviews, the Tour needs to do something about Thomas and his glacial pace of play.  He draws two clubs from the bag for every shot he takes, and then performs the Labors of Hercules before deciding which to hit.  Sadly, in a twosome with his good buddy Jordan Spieth, Thomas is the fast player.  Spieth plays a round of golf as a fly would take a swim in a bowl of maple syrup.
The Tour fails to understand that the reason LIV is going down the tubes is because at the end of the day, golf tournaments must attract people who like golf.  The bells and whistles can only prop you up for so long, and eventually those who don't like golf to begin with will move on to other things.  The PGA Tour needs to stop trying to be all things to all people, and instead should indulge its base—those that like and follow golf.
It can certainly be no accident that BagCam was introduced at the Valspar, because between Thomas' languid pace and Spieth's dawdle up the leaderboard, the tournament was like watching paint dry.