October 5, 2019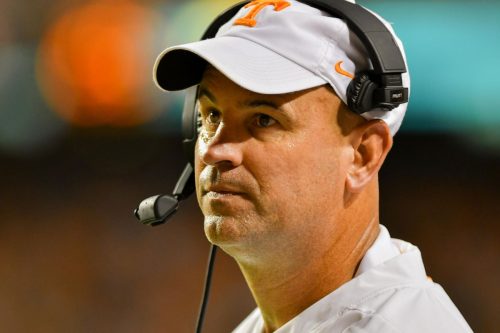 Well it seems University of Tennessee head football coach Jeremy Pruitt has finally had his "Come to Jesus" moment. Pruitt at long last kicked scumbag Jeremy Banks off the team after a new video surfaced of the sophomore linebacker threatening to "smack" a woman after slapping a cellphone out of her hand as she attempted to put the miscreant's behavior on the record.  Banks, of course, had the requisite pants drooped down below his ass as he cursed, spewed threats, and proudly declared, "I been thuggin'."  The woman claims Banks has been harassing her for months.
Apparently a different video (below) earlier in the week of Banks using the King's English to unleash profane threats at police officers while being arrested three weeks ago wasn't enough for Pruitt to give up on the fine young man.  Banks had been pulled over for a traffic violation and was then detained when police found an outstanding warrant.
Pruitt covered his player's ass at the time with an insincere and scripted response:
"Jeremy's (Banks) behavior and comments are unacceptable and portrayed himself and our football program very poorly and he understands that. We will address the matter internally. I'm determined to do what I can to help Jeremy grow up and become a better man. Our team and staff respect our law enforcement and we will continue to educate our players on how to carry themselves at all times."
Not only is Pruitt a shitty coach (6-10 record in his 2nd year), he has questionable values.  In this truncated version of the police video, you can't see the "student-athlete" call his head coach in the middle of the night, looking to be let off the hook for what must be the umpteenth time judging by Pruitt's discussion with the officers.
"So why do you, I mean, why do you have to arrest him just 'cause he's got a warrant?" Pruitt can be heard saying over the phone.  "This is the silliest thing I've ever seen in my life." Pruitt goes on to say, "I've worked at four places and never had no crap like this except for here."
Pruitt previously worked at football factories Alabama, Georgia, and Florida State where criminality is de rigueur and filthy pond scum like Banks are routinely excused for their aberrant and criminal behavior.  To his credit, Pruitt does finally relent and tells the cops to do their "civic duty."
"While I will continue to support Jeremy in the next steps in his life, information I recently received made it clear that this decision is in the best interest of the football program and the university," Pruitt said in announcing that Banks will be let go from the team and be free to go about his "thugging" in what will no doubt end in a prison term some time down the road.
These athletes are the people we're told are being exploited and who are supposed to be paid for their fine contributions to the universities they represent.  And of course, it won't be long before Banks plays the race card.