March 13, 2023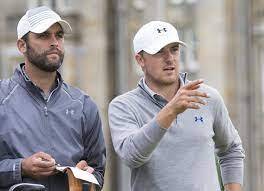 "Golf is a good walk spoiled," Mark Twain may or may not have said, but someone said it, and just as cancel culture has demanded bowdlerization of many Twain classics, so too should this phrase be amended.  "Golf is a good crawl spoiled" now seems far more apt in consideration of the six and seven hour slogs now deemed normal on the PGA Tour.
Scottie Scheffler picked up another convincing win Sunday at a Tournament Players Championship beset by ponderously slow play, that in the end, worked to his benefit.  This week's tournament marked the fifth consecutive time that Friday's second round had to be completed over the weekend before a cut line could be established.  In a rapidly changing sports landscape where brevity is desired (or so they say) and even the glacial pace of baseball is being cattle-prodded with a pitch clock, the PGA Tour continues to look the other way while players and caddies hold ten-minute symposiums on each and every shot, and groups on the green resemble garden snails on a lazy afternoon, casually lining up putts without a care in the world.
Scheffler played in the afternoon group on Friday and was only able to complete 10 holes as high winds and hard greens seemingly ossified the best players in the world.  Play was suspended at 4:27 EST and Scheffler teed off at 12:56—it took him 3 hours and 31 minutes to play 10 holes!  That translates to a six-hour and twenty minute round.  And since he started on the front nine, he never came close to having to deal with the treacherous 17th-hole island green, or the equally treacherous water looming along the left side of the 18th hole.  These holes are the most difficult on the course and balls were finding water all afternoon as if they were divining rods, but almost 40 players never had to play them with the super windy conditions, and with greens baked dry by the afternoon sun.  Instead, Scheffler and a slew of others got to go home for the night, have a nice meal, a nice slumber, and then tackle these holes Saturday morning in windless conditions with soft pristine greens.  Notions of competitive imbalance created by the stoppages were conveniently not discussed.
Media darling Jordan Spieth is one of the worst offenders.  He and caddie Michael Greller are likeable fellows and Spieth's wizardry around the greens is special to watch, but the two of them talk over every shot as if they're splitting the atom.  No detail is too small, and the two navel-gaze over every decision like the fate of the world is at stake.  These tedious interactions are then followed by an endless series of practice swings before Jordan finally settles in to take a swipe at the ball.  Then a post-analysis follows as Jordan waves his hands and complains about the wind direction or his club selection before finally moving up the fairway.  Jordan is also part of the forever-growing "stroll club" whose members find it perfectly fine to walk all the way up to the green and back on 130-yard shots to assess their landing spots. They never make these strolls hastily either; it's all about me.
Jordan's good pal Justin Thomas plays like molasses as well.  He and caddie Bones Mackay have afternoon tea before every move as they breezily discuss routine shots.  My weekend foursome makes it around in 4 to 4 ½ hours and we're hitting it all over the lot, but three PGA Tour players in a group can't get finished in over six hours.  It's ludicrous, and it should stop.  The PGA Tour pooh-bahs are in the process of bastardizing the game to fend off the LIV Tour encroachment, but they fail to address a simple issue that has been a problem for years and that is making the game insufferable for many viewers, not to mention the bettors the Tour now heartily engenders, who are left twisting in the wind (joke intended) with the fuzzy demarcation of rounds carrying over to the next day.
With the Tour now bending over backwards to embrace ideas they scoffed at a year ago when LIV introduced them, they might be wise to consider the shotgun starts of the rival tour.  I hate the idea, but in the absence of any penalties for slow play, I fear many of the peach-faced golfers we see teeing it up in the morning may be sporting full beards by the time they make it back to the clubhouse.