February 24, 2023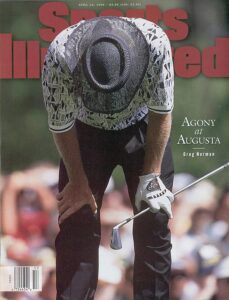 I couldn't help but notice, as I checked in on the leaderboard at the Honda Classic today, that the man holding the lead was one of those downtrodden golfers that we've been told by LIV dupes for the past year are the bread and butter of the Tour—the players being systematically marginalized and forced to live in cardboard boxes in the clubhouse parking lot as they struggle to make cuts and earn enough soup money to drag themselves to the tee the following day.  Friday's leader, Justin Suh, is hardly destitute, but if you spend a moment in any golf chatroom, you'll be overwhelmed by the wailing of the "equity" blockheads who insist that the Grayson Murrays of the world should be as well compensated as the Rory McIlroys and Jon Rahms.  "These guys show up every week and don't make any money if they miss the cut," these simpletons, who can't even distinguish the PGA from the PGA Tour, say, as they genuflect to LIV Golf for poaching a bunch of PGA Tour has-beens and PGA Tour never-beens like Andy Ogletree.  Ogletree, who finished dead-last in LIV's inaugural event with a flashy 24-over par in three days, earned a cool $120,000 for just showing up.  Only 9 of 48 LIV players shot par or better in London that first week, yet Ogletree's bounty was the lowest sum one could whore for.
Mind you, I care not one whit for the virtue-signaling hypocrite journalists who sermonize about the evil Saudi backers while giving a pass to Rory and others who take blood money from Dubai and other Middle East cutthroats while playing on the DP Tour.  These pious scribes will still sip their craft beers at NBA games with complimentary tickets provided by the China-backed Adam Silver (looking at you Eamon Lynch and Brandel Chamblee).  My beef with LIV is the simple ingratitude that Phil, Dustin, Brooks, Bryson, Patrick, and Cam have shown toward the PGA Tour which showered them with lavish amounts of money, courtesy cars, free meals, and fawning volunteers at every event, where their every whim is catered to and indulged.  Abraham Ancer apparently was offended that he was only able to siphon $15 million for a seven-year career that features one win and 13 missed cuts in 19 events in his rookie year.  And, of course, Greg Norman, LIV's CEO and commissioner, who never met a man he couldn't be rude to, made a fairly healthy buck pissing away 54-hole leads for 20 years.
But I digress…back to Justin Suh.  The 25-year old USC product was a highly successful amateur player and may have a long and storied career ahead of him, but to this point he has made 17 of 37 cuts in the big leagues, and this season alone has earned $352,323 for not making it to the weekend in 4 of 12 starts.  His highest finish is T20 and he currently stands 112th on the FedEx Cup list, but he's already more than a third of the way to a million, and we're not even out of February yet.  Point being, the Bernie Sanders lick boots who think it's everyone's birthright to play golf for a living need to French kiss some facts before decrying the largesse that the PGA Tour has for years showered on a multitude of middling players.  I wanted to play centerfield for the Yankees growing up, but it didn't quite work out.  That's life, and if you're a pro golfer slamming the trunk every Friday, you shouldn't be crying for welfare, but instead should be applying for a sales job at the local car dealer.